SHOWROOM LINDENSTRASSE: 3X40FT And 1x20ft, WINTER 2013/2014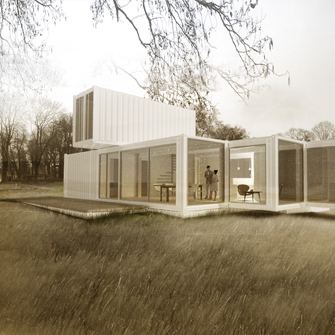 This showroom container project was developed for the real estate agency Buwog-Meerman. It enables the presentation and marketingof an important building project located on the Berlin Lindenstraße.
The space includes a reception area, two meeting areas, a showcase of prototype bathroom elements, as well as a prototype kitchen. Next to the client WC is an ample stock room for keeping presentation material. In order to take full advantage of the property location – directly on the banks of the Spree river – the container has been provided with a large window front and a roof top terrace. This module can also be used as permanent, holiday or weekend container house.