TRADE FAIR CONTAINER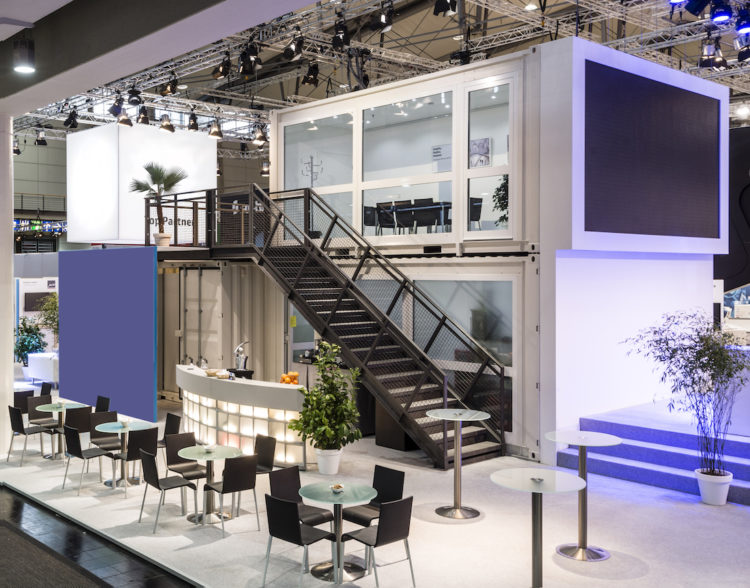 This container system of ISO High Cube Containers was designed as a presentation stand for temporary brand staging, catering and meetings at non-public and public events such as fairs and can be assembled and dismantled within a day.
The building extends over two floors and offers various construction options. It consists of six high cube containers (four developed 20ft high cube containers and two 20ft high cube storage containers), a roof terrace consisting of three decks and a staircase.
The container meeting rooms are equipped with a carpet floor. LED-downlights installed in the ceiling provide lighting. The long sides of the four presentation containers are equipped with an ESG / VSG noise protection glazing and a glass door that opens inwards. All walls and fittings are made of flame-resistant and B1-certified materials. In addition, the developed containers are each provided with two sprinklers.
The container exhibition stand can be connected to existing water supply, wastewater and electrical connections. Each container is equipped with two circuits and an electric skirting board with six double sockets and two network sockets. Additional sockets for the air conditioner and other mobile IT devices are integrated in the sideboard. Further suspension points and connection options for flat screens are preinstalled in the ceiling.
The TRADE FAIR CONTAINER creates the structural framework for various presentation concepts, which can be staged with the respective equipment.