PALL MALL HOSTEL, ROCK IM PARK, NUREMBERG 2016/2015/2014 (CLUB HOUSE FOR SALE!)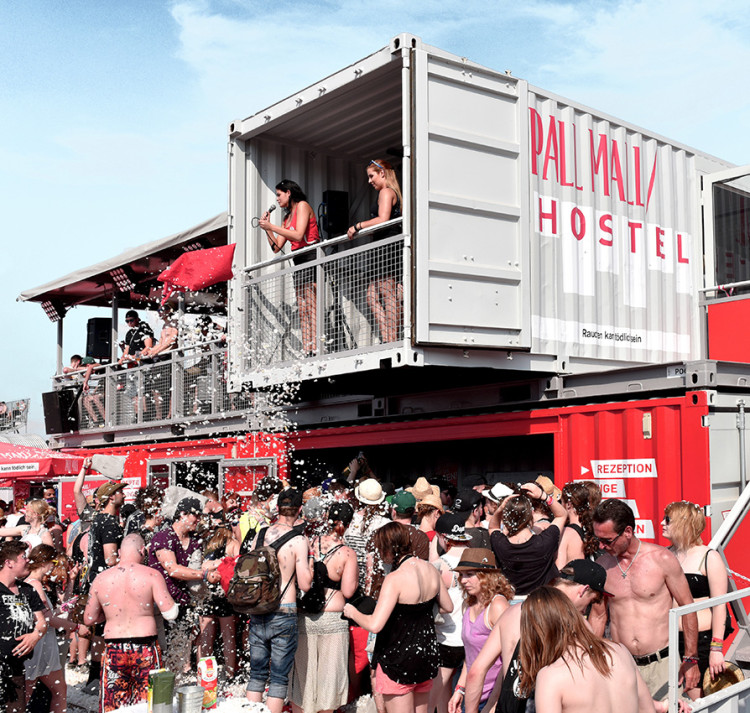 The Event/Container construction "Rock im Park" was reworked for the new festival season. The rooftop terrace got a roof in order to allow guests to continue the festivities despite the ever-increasing summer showers.
On the ground floor, a chill out area was created with an air-conditioned lounge with WiFi and coffee bar. Pall Mall's presence at the festival was this year yet again a big success, thanks also to the entertainment program organised by Fleck Promotion.
Pall Mall Hostel,
Rock im Park, Nuremberg
Summer 2014
The container building "Rock im Park" is a complete separate new construction.
The rock festivals "Rock am Ring" in the Eifel region and "Rock im Park" in Nurnberg are parallel events. Pall Mall wished to be present at both festivals with a unified concept; it was therefore necessary to develop this new construction.
This container building can be rapidly build and taken apart. It went through the same TÜV permit procedure as the "Rock am Ring" container building and is thus functional everywhere in Germany.
Six cut out and modified 20ft containers constitute the ground floor. On top of it are six original steel platforms that serve both as the terrace as well as the bearing area for the 40 to 30ft containers protruding to the sides.
On the ground floor is an intimate club area with professional sound and light system, as well as the reception, which is enclosed in separate usable 20ft container.
Alike to the Pall Mall Hostel concept, this building also disposes of a large lounge area with bar, in this case on the second floor.