CONTAINER HEAD OFFICE, CONCEPT & DESIGN 2016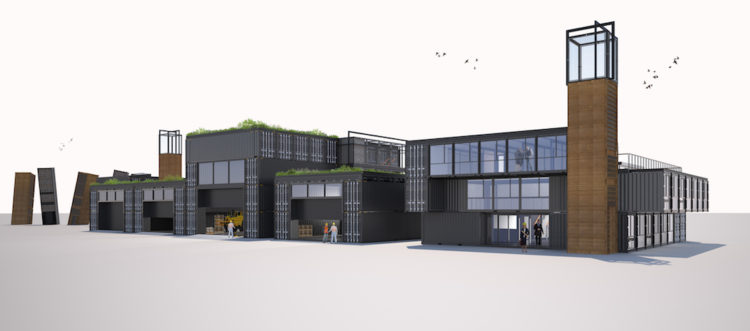 This concept was developed for a company in the construction and logistics sector and is divided into three areas: the administrative building, the workshop and warehouse area and the social building.
Administration building:
In the administrative building, the offices and conference rooms are located. There is also the reception, the kitchenette, the archive, as well as the exhibition and lounge areas. Special features of the design are the many window surfaces and the roof terrace on the 2nd floor.
Workshop:
The wooden and metal workshop we have designed as a large two-story hall with a gallery in the rear part of the first floor. It can be accessed directly from the administration building via a corridor. Between the workshop and the warehouse, there is a staircase, which is also the connection to the warehouse, as well as a freight elevator for the small parts storage.
Storage hall:
The warehouse is composed of three halls: Hall 1 extends over three stories with a height of 8.78m. The side 20ft and 40ft containers serve as storage rooms with space for shelves. The roof functions partly as a storage for small parts. Hall 2 and 3 are structurally identical and provide further storage areas, but they are two-storied with a room height of 5.85m. Container platforms form the roof.
Social section:
The social tract in the south of the property, like the administrative building, has been positioned as an individual building next to the warehouse and can be accessed directly from the warehouse via a corridor and a container tower. There are a canteen, as well as showers and dressing rooms for the staff.
Adjacent to the social tract is a container installation consisting of five vertical 40ft containers functioning as an eye-catcher.